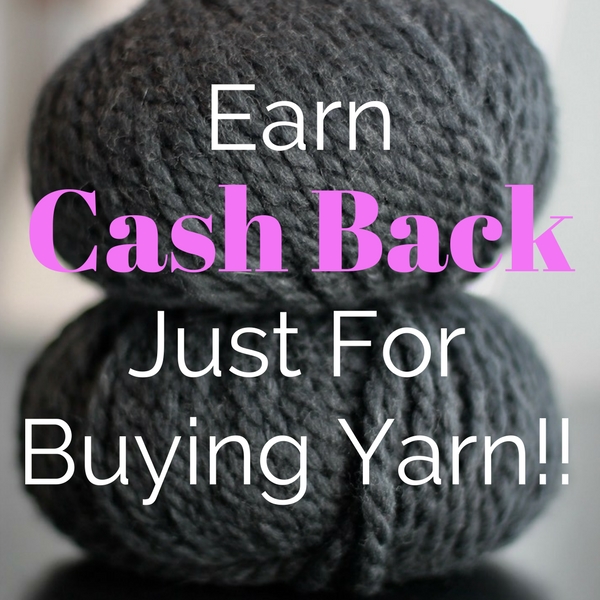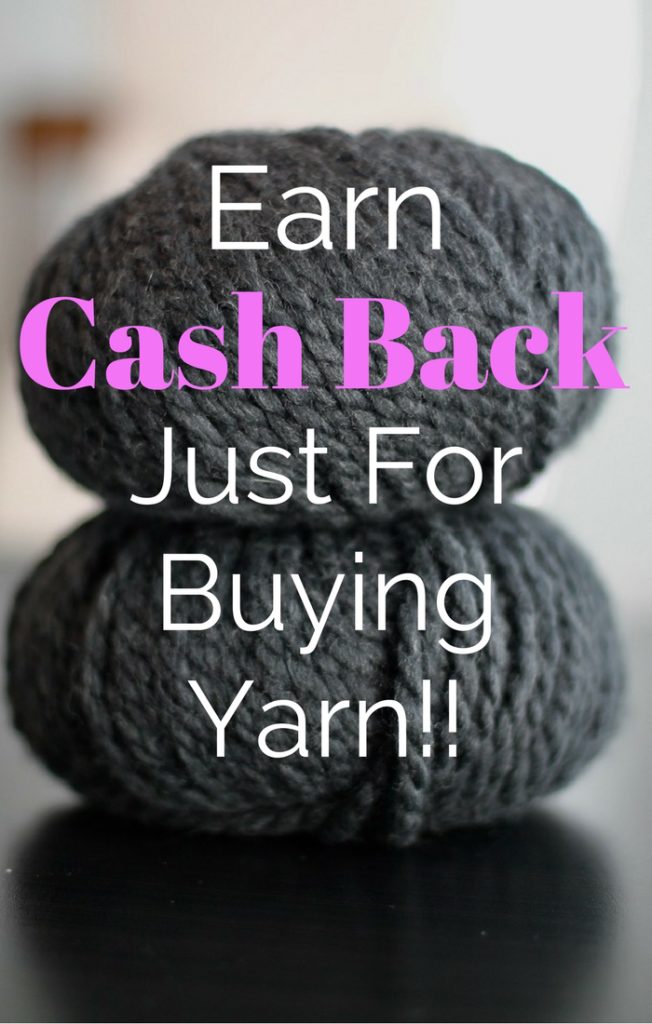 If you're anything like me, you enjoy saving a buck or two. Who doesn't, right? Well, I've recently found a way to save money and earn cash back for buying yarn! The part that stinks is that I've been using this cash back method for a long time, but it never occurred to me to take advantage of it on yarn. What was I thinking?
Earn Cash Back For Buying Yarn
Most of you have probably heard of Ebates. But, if you haven't, then get ready for something to be excited about!
Ebates is an AWESOME website that works with over 1800 stores. And I'm not talking about stores that nobody shops at. They work with stores like Kohl's, Macy's, Nordstrom's, Target, Best Buy, Walmart, Amazon, eBay, JCPenney…just to name a few. They work with the stores that people actually shop with!
These stores aren't just for your basics, either, like clothes, housewares, kids stuff, etc. You can earn cash back on hotels and vacations, food and restaurants, electronics and computers, and YARN! Just about anything you could need or want can be purchased through Ebates, and you earn actual CASH BACK.
The first time that I tried Ebates, I was a little leery. I'll admit that. But I did it anyway just because there were some things that I needed. Since I would be buying these things anyway, I figured, "why not?"
I shopped, got my stuff, and a few weeks later I literally received FREE CASH BACK to my PayPal account.
And, I didn't have to do anything special like write a review, sign up for any trial offers…nothing. I just shopped and got money back.
After that, I started thinking about the things that I purchase most. Since I am obsessed with all things yarn, naturally I thought, "yarn!"
BUY YARN, GET CASH
The first time that I went to purchase yarn through Ebates, I was shocked! I just typed "yarn" into the search box at the top of the Ebates page, and it returned almost 9,000 results that were actual yarn!
And it was PRETTY yarn. Nice yarn. Yarn from stores that I didn't even know carried yarn. Yarns that I had never heard of. IT WAS AWESOME!
Needless to say, I've been earning some nice cash back. ;-)
HERE'S HOW IT WORKS
It's so simple.
You sign up (and it's free by the way–did I mention that?) with your email and a little basic info. No credit card info, nothing sketchy.
From the Ebates website, you can search for a store or item that you'd like to buy, and Ebates will present you with the offers that match your request. The offers are most often in the form of a % cash back, or a fixed dollar amount back. From there, you simply click the "shop now" button, and do your thing.
Once you do that, you'll be taken right to the website of the store that you want to shop with and the rest takes place there. All of your purchasing happens right on the site of the actual stores.
Ebates will keep track of your purchases, and of how much money you've earned in the form of cash back. You can check this at any time just by logging into your Ebates account. Ebates will send the money that you've earned by way of your choice…either an actual check that is mailed to you, or a direct deposit straight to your PayPal account.
When you'll be paid
As of the writing of this post, they state that payments are made on May 15th, August 15th, November 15th, and February 15th of each year. However, I received a payment during the first week of February, as a PayPal payment, so payments made via PayPal may be made more often.
It's also sort of amazing how quickly the earned cash back adds up. I've heard of people receiving large amounts of money from Ebates each month, just for buying the things that they need. Things like groceries, cleaning products, toiletries, party supplies, clothes, home accessories, holiday shopping, and even vacations.
And I will say that earning money, just for buying yarn, is one of the best things ever!
Don't forget to subscribe to my updates so that you get the latest information on my new free patterns, sales in my shops, and contests and giveaways!
Best,
Tammy