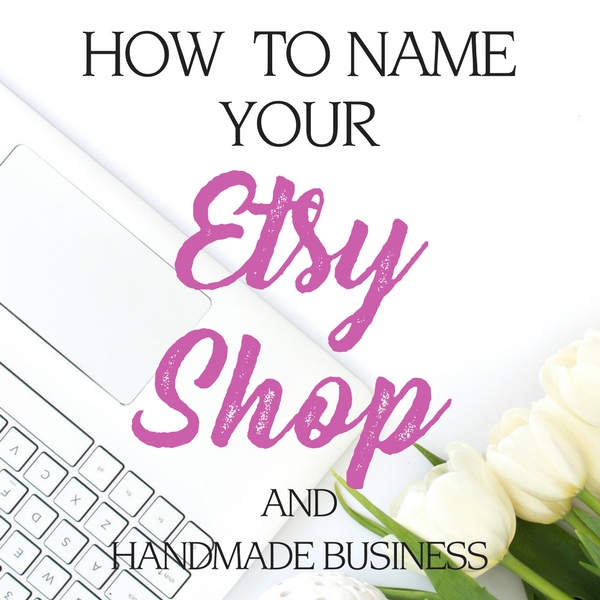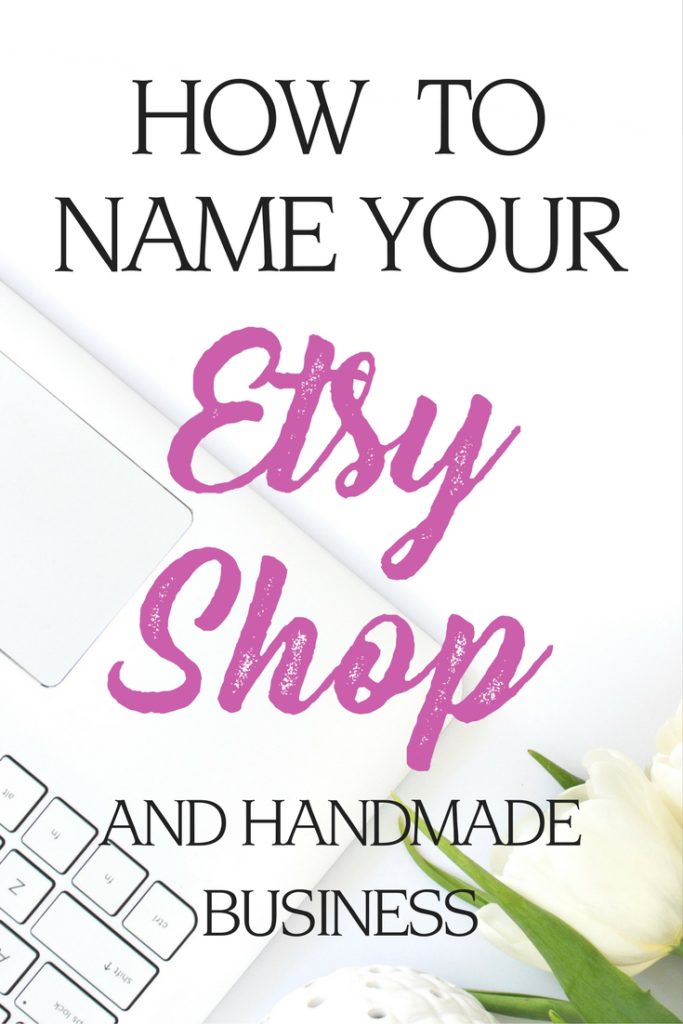 Choosing a name for your Etsy shop or your handmade business is one of the first steps that you'll take. Maybe you've had a name picked out for a long time, or maybe you don't have a clue where to even begin. Before you make that decision, consider these things when you name your Etsy shop (or handmade business).
How to name your Etsy shop or handmade business
Include your main keyword in your shop or business name.
Having that keyword in your shop name will make it that much easier for Google or Etsy search to find you. For example, if you sell cross-stitched artwork, consider including "cross stitch" in your name. This way, when people go to Etsy search or Google to look for a piece of cross stitch artwork, having those words in your shop name will help you get found.
If the names of your products that you'll be selling don't have a nice "ring", don't worry. With a little bit of thought and pondering, it may be easier than you think to come up with a catchy name. Take your time and ask your friends and family for ideas.
There may be rare occasions where it seems almost impossible to think of a name with your main keyword or the name of the products that you'll be selling. If that is the case, then move on to what would be the 2nd best keyword. As long as you can find a name that includes a common word that people would search for when looking for your products, you will benefit.
How would you like to get all of my best tips and advice for a successful Etsy shop and handmade business? Sign up for my Etsy & Handmade Business Success newsletter and I'll send them straight to your inbox. :-)
Make it easy to remember
Ideally, it would be best to think of a name that your customers and other people will remember in between visits to your shop, or purchases. That way, the next time they're looking for something similar to your products you may be the first shop they think of and the first place they go to!
Keep it short
A shop or business name that isn't very long will be much easier for your customers to remember. In my opinion, it's also easier to come up with a cute and catchy name when they're short. They just seem to have a nicer ring to them compared to longer shop names.
I typically suggest trying to keep it between 2 and 4 words. It's enough to get your point across and let people know what your business is about. But not too long that it makes it difficult to remember.
Make it easy to spell
Having a shop name that is easy to spell goes along with the last two tips. Not everyone is good at spelling, so keeping it fairly simple will only help people find you when they search online.
Also, make sure you use correct spellings for all of the words in your shop and don't try to make it unique by using a "fun" spelling. It may seem like a cute idea, but that tactic will not help your shop in search results.
Make sure it has an available domain name to match
I can't stress this one enough. Even if you are only opening an Etsy shop right now, and you don't think you would ever have your own website for your business, hear me out.
When I started my Etsy shop 6 years ago, I never even thought of checking for my matching domain name because I didn't even consider having my own website or blog. That is, not until my shop started to become successful. By that time, someone else had purchased it (probably for $11), but not to use for their own business. Instead, they purchased my logical domain name and then contacted me, basically saying "Hey, I have your domain name. Want it?"
Of course, I did. But they didn't let it go for the $11 that they probably paid! This is a very common practice (and not very nice, at all!) so just know that it can happen. Lesson learned.
So, even if you don't think that you'll want your own website, make sure the matching domain name for your shop name is available (for a reasonable cost) and consider buying it.
Use this box to check on some of your ideas. :-)

If you happen to find one that you love, and it's available, you can get it for free when you sign up for Bluehost hosting.
Having your own website or blog for your business is a natural next step for most Etsy shop owners and there are a good number of reasons why it's beneficial. You can have a blog and a shop right on the same site, using your domain name.
Read this post about why I think it's smart to have a blog and website for your Etsy shop.
Don't make it too specific
You want to include a common keyword in your shop and business name, but don't get crazy specific with it. Going back to the cross stitch artwork example — if you're going to start out selling cross stitch artwork for nurseries, great. But I wouldn't suggest adding nurseries to your shop name because someday you may want to sell other types of cross stitch artwork, too.
On the other hand, if you know that you'll be selling cross stitch artwork for nurseries, but you think you might sell other things for nurseries later on, then maybe you'd want to incorporate "nursery" or "nurseries" into your shop name. That way, you won't be tied down to only cross stitch products. It works both ways.
Make sure you like it
Hopefully, your shop and business will be something that you'll have for a long time. For that reason, be sure to pick a name that you like! It's easy to choose it or change it in the beginning. But, once you're established you want to leave it alone.
I sure hope this helps you with this important step for your Etsy shop and handmade business. Have fun with it!
Don't forget to sign up for my Etsy & Handmade Business Success newsletter to get more awesome tips and advice. :-)
Best,
Tammy